LAT-MAP™ is a software system bundled with both Staff and Kiosk capabilities built-in. Mix & Match to suit your needs.
In the kiosk mode, the software can be loaded on to a variety of hardened kiosks to provide a secure, safe and robust environment to your visitors. Via a touch-screen interface, the visitors can easily select their desired point(s) of interest and have LAT-MAP™ take them there. This configuration limits what the users can do at the kiosk.
In a "Staff" mode, the LAT-MAP™ can be licenses to be installed on to any staff computer as a standard application software. In this mode, your staff is now fully empowered to provide dynamic routing capabilities as needed by simply running the system.
For example, the front-desk receptionist can now be fully enabled to provide instantaneous guidance information and printout directly from her computer to anyone.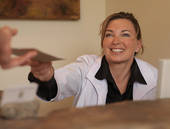 Both Staff and Kiosk operating modes are available and are defined via a license. Site licenses are also available to allow mix-match modes capability throughout your facility.
The ability to operate both as a stand-alone and/or secured kiosk mode, allows the system to satisfy both the staff needs as well as self-service needs of our facility.